What is Business Automation?
These days, having a 3-4 day work week is totally possible, with Business Automation and SuiteDash.
How? 
SuiteDash is an All-in-One Business Software that provides both internal and external communications and manages every-day tasks so you can save time while enjoying the benefit of your business run smoothly.
Tasks like…
managing the details of customer relationships
sending emals or documents for launching new projects,
calculating hours worked and preparing invoices,
preparing estimates and proposals,
creating tasks and projects for your team to execute,
managing sales and cashflow,
guiding clients and new employees through onboarding processes
Just imagine…instead of you managing such tasks, you can apply a little automation magic to your work allowing technology to help you do what needs get it done! With a little up-front effort to establish your processes, your workload becomes easier to manage while customer experience and overall efficiency improves, saving you, your team or your one-man show a ton of time and money!
Is Business Automation Expensive?
Like anything, there is a cost to get your particular process set-up, but our clients discovered how to save money through both staff management and the savings they recovered from user seat cost using other solutions.
In fact, automating your business can actually increase the long-term return on the value of your business!  For example, the true value of a franchise lies within the systems created to replicate operational structure related to the brand quality.  SuiteDash provides the framework to create a "System" that is easy to manage and easy to replicate (if needed) for brands that franchise.
"It has been well worth the investment! Our operations flow more smoothly and consistently making launching new projects or onboarding new team members so simple. We used to spend several hundred dollars each month for user seats for our team to use a variety of other products, but this one solution saves us over $5,000 each year!" ~ D. Young
We Make Simplifying Your Business Even Easier!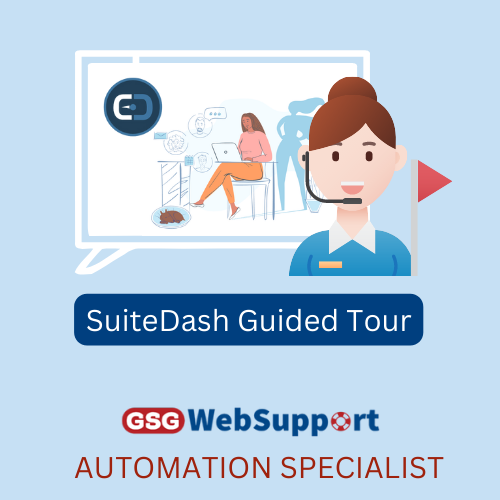 Have Questions?
Since we're an Authorized Agency of SuiteDash, we'd be happy to meet with your team for a Private Virtually Guided Tour of SuiteDash with our Automation Specialistto discover the amazing tools available to help you take your ordainary business tasks, and make them extraordinary with the brilliance of automation.  Complete the form provided and learn more about #SuiteFreedom.